Strymon Zuma Multi Power Supply

FRI FRAKT
FRI FRAKT PÅ DENNA PRODUKT

SNABB SERVICE
vi skickar samma dag om ordern är lagd innan kl 13:00 CET

14 DAGAR FULL RETURRÄTT
byt eller pengarna tillbaka
Never worry about power again.
Zuma is the highest horsepower, most technologically advanced effects pedal power supply of its kind. Zuma offers nine high-current, individually isolated, ultra-low-noise outputs—each with its own dedicated regulator and custom transformer. Designed to meet the needs of today's players, each output provides a staggering 500mA of current.
Zuma's dual-stage topology, pre-regulated outputs, optically isolated feedback, and advanced multistage filtering result in a power supply that allows your pedals to achieve their highest possible dynamic range.
Never run out of outputs.
Have a growing rig? Or unique requirements that require distributed power? Add more outputs to your Zuma by connecting a Strymon Ojai (sold separately) with the 24V Out jack. Use Zuma by itself if that's all you need, or as part of a truly expandable, modular power distribution system that can grow with your pedalboard.

Hear your pedals, not your power.
Many popular guitar pedals were originally designed to work with batteries. Since batteries are inherently very low noise and not susceptible to ground loops, these pedals often were not designed to be resistant to noise from power supplies. Our ultra-low-noise design prevents power noise from bleeding into the audio signal, allowing your pedals to deliver the highest possible dynamic range.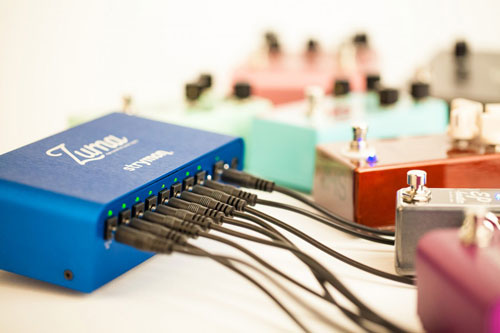 World tour ready.
Playing gigs all around the world? No need to purchase separate power supplies for your international tour. Zuma has automatic worldwide power compatibility built-in (when connected with the appropriate IEC cable). Whether you're on 120V, 240V, 100V, or any variation in between, Zuma will deliver clean, reliable power to your pedals, even if the venue has dirty power.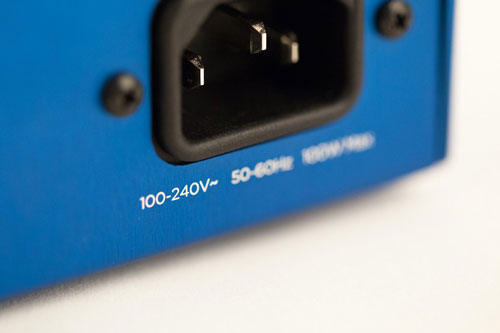 12V and 18V Options.
Do you have pedals that require 12V or 18V? Zuma has you covered. Two channels have selectable 9, 12, or 18V output voltages.
Some analog pedals designed for 9V operation may provide higher output and/or more clean headroom when run at higher voltages such as 12V or 18V. However, others will simply start smoking and melting, so please check with the manufacturer of your pedal before operating at a higher-than-standard voltage!

Dual isolation.
Zuma's all analog circuitry offers two stages of isolation. Each of the nine output channels is individually isolated from the 24V DC, and the 24V DC is isolated from the AC input power, eliminating ground loop and AC line noise issues. Zuma also provides dual power regulation: Wide-bandwidth optically isolated feedback loops on each channel, as well as on the input, allow both the input and outputs to adjust for changes, ensuring solid output under changing load conditions.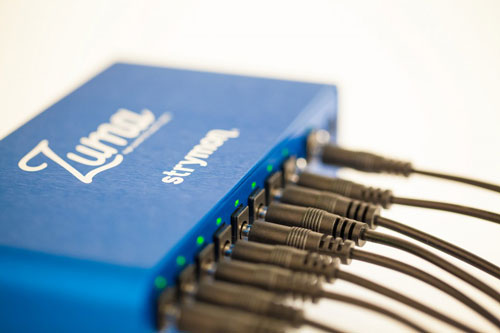 Energy efficient.
Don't let the blue chassis fool you: Zuma is green at heart. Significantly more efficient than linear power supplies, Zuma is able to deliver substantially more current while handling a much wider range of input voltages. Zuma's high efficiency design delivers high-current power distribution in a compact unit, for a small carbon footprint and a small pedalboard footprint.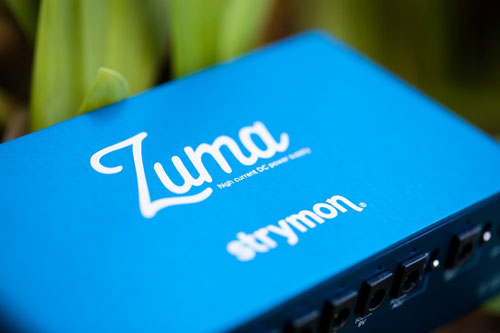 Ins & Outs
9 high-current, fully isolated outputs
9 outputs offer 9V DC option
500mA per 9V DC output powers nearly any pedal
2 selectable outputs offer 9V, 12V, or 18V DC options
12V option provides 375mA, 18V provides 250mA
9 pedal cables included (5.5mm x 2.1mm barrel connectors, center negative, right angle to straight cables)
Detachable IEC power cable included
24V OUT jack allows connection to additional outputs via Strymon Ojai (sold separately)
Läs mer