Rockslide Balltip Guitar Slide

FRI FRAKT
ÖVER 1000 SEK*

SNABB SERVICE
vi skickar samma dag om ordern är lagd innan kl 13:00 CET

14 DAGAR FULL RETURRÄTT
byt eller pengarna tillbaka
The Rock Slide Difference
Problem 1:
Slides tend to go two ways, they feel like a cast in the way they restrict your finger, or they have too much wiggle room forcing you to cramp your fingers all night to keep the slide from falling off.
Problem 2:
It's either thin & comfortable, but has no tone – or – it is a bulky slide that sounds good, but is cumbersome.
Problem 3:
No matter what slide you buy, it wobbles. Sure, it's snug at the 2nd knuckle, but loose across the rest of the finger.
Solution?
Don't cut, carve the perfect slide! We made a slide that tapers inside to maintain a snug feel all the way down your finger. The added benefit is thicker walls for extra weight and sustain. A cutaway at the second knuckle helps maintain finger bendability and prevents pinching. Lastly, the flat finger rest is more stable than resting on a round surface.
Balltip Guitar Slide
The revolution continues with the Balltip Rock Slide®. This slide features everything you've come to expect from a Rock Slide®, the cutaway, tapered interior, excellent weight and comfort, but now in a lap/pedal steel inspired ball tip.
Balltip Rock Slides® have two notable features when compared to an original Rock Slide®. First off is the very obvious ball nose which makes this a combo slide for use on a variety of other instruments like Dobro or Lap Steel. Secondly, the slide has 2 playing surfaces so one can either take advantage of the knuckle cut, or use the long side of the slides for greater string coverage. Size/Specs follow standard RS design but are slightly heavier & longer due to the added ball-tip.
This may be the one slide your resonator will NEVER leave home without.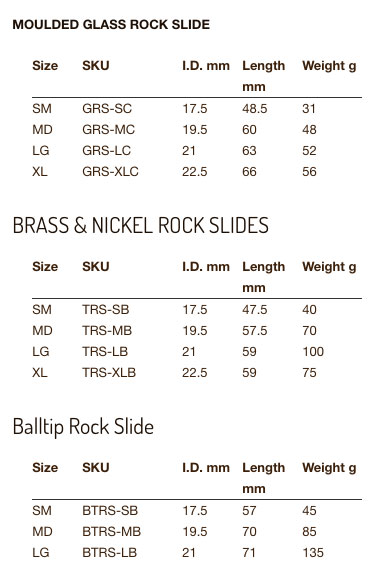 Läs mer