Chase Tone Tru Talk 100K Professional-Grade Wah Potentiometer

FRI FRAKT
ÖVER 1000 SEK*

SNABB SERVICE
vi skickar samma dag om ordern är lagd innan kl 13:00 CET

14 DAGAR FULL RETURRÄTT
byt eller pengarna tillbaka
Millions of Authentic Talking, Laughing and Crying Vowel-y Vocal Wah Sweeps! Guaranteed
to make your Wah TALK- like no other!"
LAUGHING, TALKING, CRYING! [CHASE TONE® Vintage Italian Crybaby Wah Replica]


AUTHENTIC-VINTAGE VOWEL-Y VOODOO WAH SWEEPS! [CHASE TONE® Script Wah™ Vintage Wah Replica]
Julijan Eric
–
Midnight
Lightnin'
–
TAX FREE!
Julijan Eric's CHASE TONE® Script Wah™ upgraded with the Tru TALK™ Wah Pot! Instantly hear the Authentic Vowel-y Voodoo Haunting Wah Sweeps throughout the recording! FAST & SLOW sweeps or left in a set position for that unmistakable Midrange Honk lacking in all other wah pots. Used with and without fuzz and never gets lost in the mix. Instantly turns heads.
CHASE TONE® Tru TALK™ 100K Wah Pot Upgrade! ~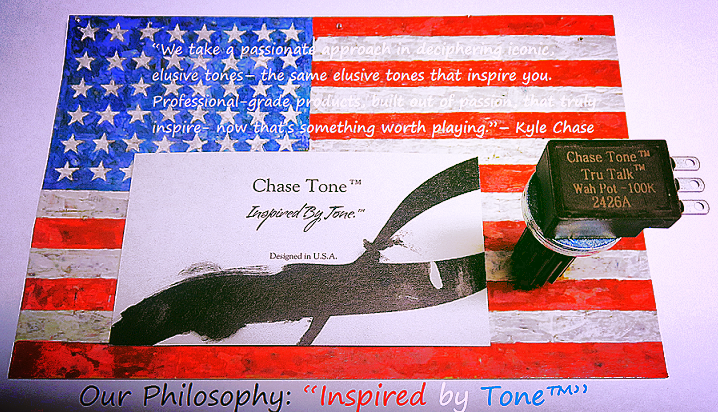 "7 iconic wah sweeps hybrid-captured under one foot; The elusive era 1966 Vox Grey; 1967-68 Vox Clyde McCoy Script/Signature and Picture; 1968 Top Logo Crybaby; 1969 Vox V846; 1970s Italian & American Crybaby Wahs; aka The Holy Grails of Wah."

"Kyle Chase is possibly the world's most OCD builder of new-old-stock amps and effects. When it comes to hardcore authenticity in vintage gear replicas, no one tops Chase Tone®." – Premier
Guitar Magazine
What it sounds like?
"Ergonomic sweep haszerolearning curve. Easily 'grabs' the note while feeling 'second nature.' Musically cuts right through a stage or recording mix with ease while retaining a vintage, sweetened top end. Turns heads making the audience take notice!" Absolutely Guaranteed to outperform ANY other wah pot- Vintage or New!
Jimi Hendrix's Voodoo Child (Slight Return), Burning of the Midnight Lamp, All Along the Watchtower, Up From The Skies, Tax Free and more.Cream'sWhite Room, Tales of Brave Ulysses, and the elusive "Clapton Wah Demo".Jeff Beck'siconic wah wailing Superstitious…"
How did we create the Chase Tone® Tru Talk™ 100K Wah Pot?
"We passionately analyzed the cream-of-the-crop vintage 1966 through 1970's Vox-style wah sweeps and then hybrid-captured their elusive frequency and harmonic tone-prints with our exclusively, custom Chase Tone® Tru Talk 100K Wah Pot for all to enjoy worldwide."
What's the difference between the cheap, mass produced modern carbon generic-icar wah pots and the over-priced boutique wah pots?
"Modern wah pots often have a stiff, slow torque rotation with a wide generic wah sweep that disappears in the mix leaving the musician (and audience) uninspired. The mass produced modern-boutique-clone generic-icar wah pots have an inaccurate sweep producing a smooth, linear and anemic response that are plagued byconstantcleaning and maintenance shortly after installation. Guitarists deserve something better after nearly 50 years of scratchy, noisy carbon wah pots that sound anemic in uninspiring wah pedals that greatly miss the mark."
"In contrast, the Chase Tone® Tru Talk™ 100K Wah Wah Pot authentically hybrid-captures the most iconic sounding 1960s Vox Clyde McCoy and Crybaby Wah pedal sweeps in a quiet, reliable Holy Grail design that's inspiring to play and with 'premium quality without the vintage/boutique price tag.' The advanced low noise design offers 2 + million life cycles and talks like no other. No cleaning! No maintenance!
Custom fine-tuned torque allows superior ergonomic control while still allowing fast, iconic wah pulses–White Room's WahSoundscapes andVoodoo Child (Slight Return)'sHaunting Vowel-y Vocals."
[Fun Fact: Chase Tone® Tru Talk™ 100K Wah Pot Life Cycle: Play the Voodoo Child (Slight Return) intro33,000 times!]
Our Philosophy: "Inspired by Tone™"
"We take a passionate approach in deciphering iconic, elusive tones– the same elusive tones that inspire you. We design our professional-grade products to inspire you on whatever musical quest you seek — house rocker, local blues clubs, studios, large theaters and world concert stages. So step on your Chase Tone® equipped pedals and live your musically creative life to the fullest. Professional-grade products, built out of passion, that truly inspire- nowthat'ssomething worth playing."– Kyle Chase
Läs mer