3rd Power Wooly Coats Extra Spanky 6VEL

FRI FRAKT
FRI FRAKT PÅ DENNA PRODUKT

SNABB SERVICE

Vi skickar samma dag om ordern är lagd innan kl 12:00 CET

14 DAGAR FULL RETURRÄTT

Byt eller pengarna tillbaka
The Ultimate Grab-N-Go American Combo!
GUITAR AND PEDAL PLATFORM AMPLIFIER
Crafting your tone can't get any easier. The front panel controls deliver a wide variety of tonal options instantly at your fingertips. The on-board three band EQ features two modes per band making it a snap to optimize tones sourced directly from guitars loaded with a variety of pickups as well as a master pedal-board amp/reinforcement solution.
HIGH HEADROOM, PRECISION CRAFTED AMERICAN TONE
PRECISION POWER SUPPLY
The EXTRA SPANKY 6VEL features a new overbuilt, high current power transformer (35% beefier vs. standard Spanky model) and a solid-state, diode rectified power supply to maximize clean headroom and punch.
OUTPUT TUBES
The EXTRA SPANKY 6VEL runs on a pair of 6L6 power tubes (for 30+ watts of power) or 6V6 tubes (for 20 watts of power). Want some tonal variety? Go ahead and run 5881s or EL34s. Bias adjustment and meter patch points are located on the back panel.
PREAMP TUBES
The EXTRA SPANKY 6VEL features JJ ECC83S short-plate tubes operating in Class-A for both the American voiced preamp and FX loop circuits. The Reverb and Phase Inverter each operate on a Sovtek 12AX7 LPS long-plate tube for maximum headroom and low noise.
TONAL CONTROL.
3-Band EQ (2 Modes Per Band)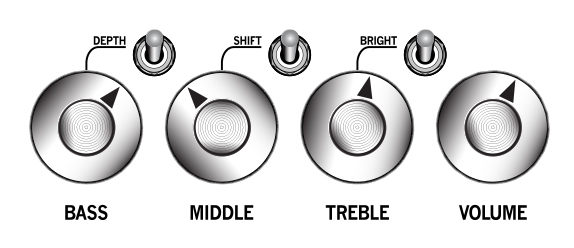 HOW IT WORKS
The EXTRA SPANKY 6VEL's 3-Band EQ features two modes per band so you know you've got the tonal versatility you need to get things sounding just right. In the down position, each frequency band is in its tightest setting creating a clean palette with a balanced response with extended clean headroom. See below for a description of each of the EQ mode switches.
Treble control with a BRIGHT switch. In the up position, the BRIGHT switch enhances the high-frequencies for a harmonically rich 'chime'.
Middle control with a SHIFT switch. In the down position, the middle frequencies are scooped and the amplifier is tighter with more headroom. In the up position, it adds additional middle frequency content as well as additional bloom, sustain and compression.
Bass control with a DEPTH switch. In the down position, the Bass EQ is tight yet still full bodied to enhance or tame a wide variety of instrument signals. In the up position, the DEEP switch enhances the low frequency response of the amplifier by working directly with the preamp tube circuitry to enhance the bloom and sustain of the low frequencies.
THE MASTER SECTION
Where You Enhance and Refine to Perfection!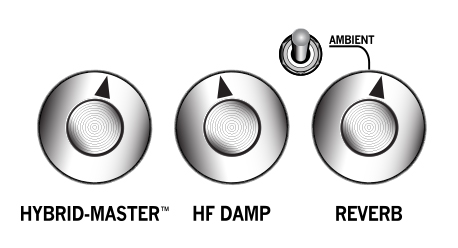 HOW IT WORKS
The EXTRA SPANKY 6VEL features a mastering section to provide the tools you need to refine and enhance your tone. HYBRID-MASTER™ controls your overall volume. HF DAMP controls the overall high frequency content. The REVERB controls the overall sense of space to your sound. The AMBIENCE switch provides two different modes of reverb effect. See below for a description of each control here in the mastering section of the amplifier.
HYBRID-MASTER is our patented volume management circuitry that allows you to control the overall volume in the room independent of the tone and feel.
HF DAMP allows you to control the high frequency content of your sound without killing the chime and harmonics. Use this control when perfecting your sound in artificial listening environments such as in-ear monitors. Or, use it to sweeten up the high frequencies as part of your overall sound.
The DUAL MODE REVERB effect utilizes a dual-triode preamp tube operating in Class-A along with a real spring reverb tank to deliver an exceptional reverb effect. The LEVEL control sets the overall volume of reverb. The two position toggle switch selects between DARK JAZZ (down position) and AMBIENT WASH (up position) modes.
FEATURE RICH BACK PANEL.
FX Loop, Bias Test Points, Speaker Jacks.
The EXTRA SPANKY 6VEL gives you an all-tube effects loop optimized for instrument level devices such as effects pedals as well as other professional on-the-floor or rack-mountable gear.
The EXTRA SPANKY 6VEL features external multi-meter test terminals and a fixed-bias adjustment control so you can optimize your power tubes for the best tone and longest tube life.
The EXTRA SPANKY 6VEL conveniently features an 8 ohm speaker jack for driving the internal speaker (112 combo version) or for running an external cabinet, or any combination of 8 ohm or 4 ohm impedance loads.
Features:
• Clean, American Voiced, High Headroom Preamp Section
• 3-Band EQ with Two Voices per Band
• Tube Buffered FX Loop
• Tube Driven Spring Reverb with Dual Mode Switch
• Unique High Frequency Damping Circuit
• 6V6 (20W) or 6L6 (30W) Operation
• Back-panel Bias Test Points and Adjustment Pot
• Over-sized and Overbuilt Power Transformer and Power Supply
• Hand-wired and Hand Built in Nashville, TN
• Limited Lifetime Warranty
• Loaded with 2x JJ 6L6GC Power Tubes
• Ships with additional pair of 6V6S Power Tubes
Läs mer