Victory Sheriff 22 22w EL84 Plexi Style Amp

FRI FRAKT
FRI FRAKT PÅ DENNA PRODUKT

SNABB SERVICE
vi skickar samma dag om ordern är lagd innan kl 13:00 CET

14 DAGAR FULL RETURRÄTT
byt eller pengarna tillbaka
Classic British overdrive, Victory-style! Expect 1960s-style blues rock to 70s and 80s heavy rock and beyond
This dual-channel, EL84-powered amp is all about classic British overdrive sounds, housed in the same light and portable metal chassis as our award-winning V30 and V40 heads. Blues-rock players will love the mid-60s-style feel and response of Input/Volume I, with enough gain to sing but also clean up well off the guitar. Input/Volume II takes off into hot-rodded 70s and 80s territory and beyond, retaining that classic British 'plexi' sound all the way. A separate speaker out gives you bedroom level cranked tone at just 0.3 watts. The Sheriff 22 is for rock players who want to travel small but go over big!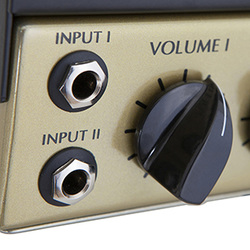 Inputs/Volumes I & II are separate channels that are also footswitchable with a custom Victory switch. You also get high- and low-power output options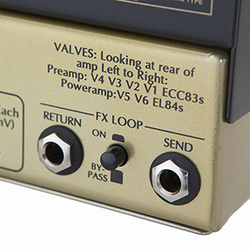 A hard-bypassable series effects loop is available for effects fans. It's completely out of the circuit when switched off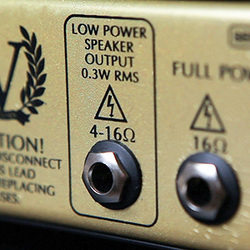 A separate speaker out provides a low-output option of just 0.3 watts, thanks to an in-built power soak. This is real cranked tone at bedroom levels!
Specifications:
Format: All-valve head with two channels
Power: 22 watts RMS
Valves: 4 x 12AX7, 2 x EL84,
Features: Independent Volume 1 & Volume II channels
with separate inputs. Additional footswitch enables
channels to be stacked together. Series effects loop,
high and low power modes. Option of fixed-bias or cathode-bias configuration for output section.
Padded carry bag included.
Size (mm): 342(w) x 185(h) x 185(d)
Weight: 6.5kg
Läs mer