Chase Tone Fuzz Fella Blue BC108C

FRI FRAKT
FRI FRAKT PÅ DENNA PRODUKT

SNABB SERVICE
vi skickar samma dag om ordern är lagd innan kl 13:00 CET

14 DAGAR FULL RETURRÄTT
byt eller pengarna tillbaka
Crystal Clear, Heavenly Cleans Sparkle with Complexity, soaring into Singing Harmonically Rich Overdrive, evolving into EXPLOSIVELY HUGE 'Wall of Fuzz' tones rivaling ANY BC108C vintage or new- all with the single twist of a guitar volume knob & varying the touch response! Listen for the OVERDRIVE quality built in that no other vintage or new BC108C fuzz seems to capture, but the greats had in their fuzz arsenal at their willing fuzz command! Official Demo featuring Sam Vilo of Finland.
Strat Style Guitar for Epic Vintage Gilmour-ish Clean, Overdrive & Fuzz Tones-

SINGING EMOTIONALLY OVERDRIVEN FUZZ!



Jazzmaster Guitar for Unique Mid 60s Hendrix-inspiring Clean, Overdrive & Exploding Fuzz Tones that go immediately back into vintage cleans – THIRD STONE FROM THE

SUN

!

If you love and appreciate Sam Vilo's playing above, please check out Sam Vilo on YouTube for his amazingly inspiring playing that captures the listener's ear and draws you into his world of music in a magical way. It goes a long way to post a favorable comment and thank Sam for inspiring all of us!
---
♪♫♪ EXPLOSIVE '69 – '70 New Years "Band of Gypsys" era Official Demo featuring Julijan Eric of Slovenia! ♪♫♪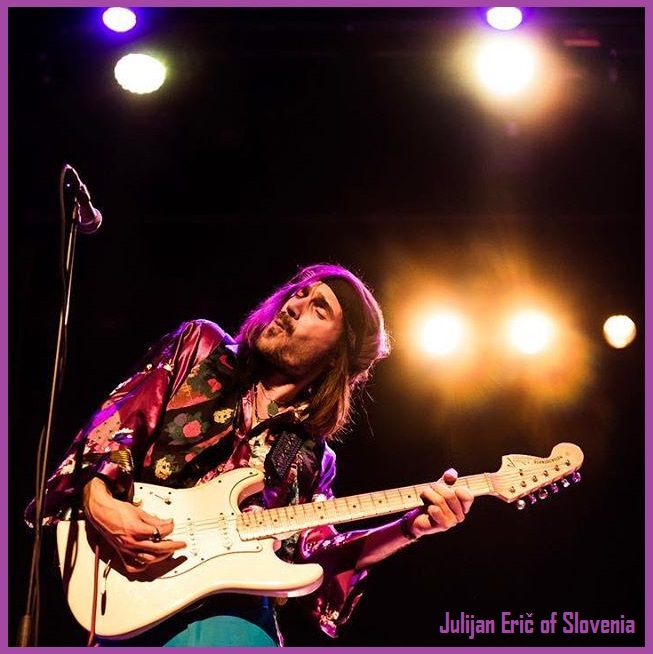 I received the FUZZ FELLA™ [BLUE BC108C]. It's creamy, with lots of sustain and gain. Can't wait to try it on the big amp tomorrow! Update: You really did an amazing job on this pedal! So much gain and sustain… I'm all freaked out about the pedal! BEST SILICON FUZZ I EVER PLAYED, you can hear it for yourself that I couldn't even stop soloing…– Julijan Eric of Slovenia

---
♪♫♪ JAMMIN' & FUZZIN' '60's – 70's "Funky Overdrive-Fuzz" Official Demo featuring Matt Cummings! ♪♫♪
First of all I LOVE the look! That BLUE is just so AWESOME looking. For some reason this pedal feels more "me" than the Red Velvet. I love that ['68 RVF] pedal and there is nothing wrong with it [used it extensively for nearly 2 years], but the Fuzz Fella™ BLUE BC108C feels a little more. It's SUPER smooth but still gets really nasty. I really dig it! It sounds amazing in my home studio! I'm really excited about this new series of yours. Really digging this BC108C. It's right up my alley!

– Matt Cummings
---
CHASE TONE®

FUZZ FELLA™

– BLUE BC108C Edition

"1960's, 1970's, 1980's &BEYOND, BC108C Hi-Gain Futuristic Fuzz Fella™ BLUE BC108C Blast to the Past… Rocks CRANKED or at a WHISPER- huge wall of fuzz sound with thick sustain and glassy cleans— like you always wished a BC108C fuzz to be!"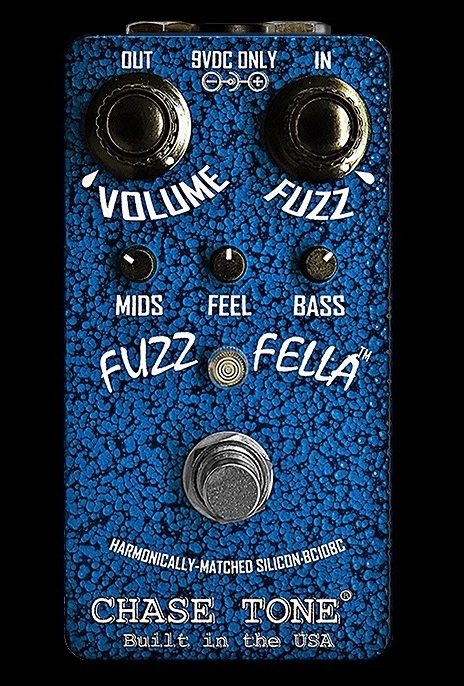 Hi Kyle, I had a blistering 20 minutes with it. Sounded great ! Can't wait to get back to it. Happy Holidays.

–

Jon Carin of Pink Floyd

Hello Kyle, just got the FUZZ FELLA™ BLUE BC108C pedal and just now finished playing through it. Wanted to give you my impression on what I feel is a fantastic fuzz. It does what a good pedal should do, make you want to play, and like other commenters I agree it was hard to stop playing. Ran through a cover of "Going Down" and the Fuzz Fella made it a blistering cover. Mountains – Mississippi Queen, Jimi tunes, Led Zep and others are so natural to lean into with this pedal, glorious tone that is not ice picky like so many other silicon fuzz pedals, it is a rich sounding fuzz that makes you want to play. Not a Fuzz where you must nearly dime the Fuzz control to get your sound, I found so many usable tones in the range. Super new pedal and you really put together a winner that I hope more will discover. Easily one of my favorite fuzz pedals, hands down. Thanks for a great pedal, I'm really digging the pedal. Best, Calvin
The CHASE TONE® FUZZ FELLA™ -BLUE BC108C is a limited-edition, pedal-board-friendly version of my favorite & most prized BC108C high gain old-school fuzz tone that has that authentic huge wall of sound w/thick sustaining tone that instantly cleans up into THICK GLASSY PUNCHY CLEANS. (Other fuzz pedals often sound thin and wispy cleaned up on second listen when compared to the FUZZ FELLA™.) Durable DOUBLE BLUE HAMMER powder-coat finish feels like Vintage and the fonts are retro-future inspired.
Kyle! I rarely gush about effects pedals though I'm really loving this FUZZ FELLA™ BLUE B108C! WOW. The cleanup is amazing! Exactly how I want a fuzz to respond to my volume knob! Sparkly, jangly clean with enough midrange and top to keep clarity without getting thin or harsh when rolling back the volume, but roaring, sustaining, singing fuzz when rolled up! It does what I want which is feel alive under my fingers.
Integrates like a dream and plays so nicely with everything else in the chain. Just a fantastic pallet and sonic tool – thank you ever so much again for the very gracious courtesy! I'm very, very appreciative of your continual kindness over the years. Cheers, Evan
What sets the CHASE TONE® FUZZ FELLA™ -BLUE BC108C apart from the rest is its amazing feel like a cranked compressed amplifier that still BLOOMS and THICK harmonic complexity responding to the player's touch with great dynamics. There's no need to crank the amplifier or layer an overdrive but you can if you want to for more saturation and feedback. This may be the most harmonically thick and sustaining Fuzz you'll EVER play; sounding like you always thought a BC108C fuzz should sound and feel. External mini-trim knobs allow the player to fine-tune to their rig at home, in the studio, or on the road with a live band. Player preferred custom tweaks from our tonally prized pedals, along with the versatility and pedal-board friendliness have all been incorporated into the design.
Kyle, received my FUZZ FELLA™ 2 days ago. Absolutely epic. Instant keeper. Fine tuning and range are stellar. This is the Fuzz I have been looking and spending for. So very pleased with this purchase. Still love my SECRET PREAMP™ as well.

Phil
~Pedal Board Friendly Control Design~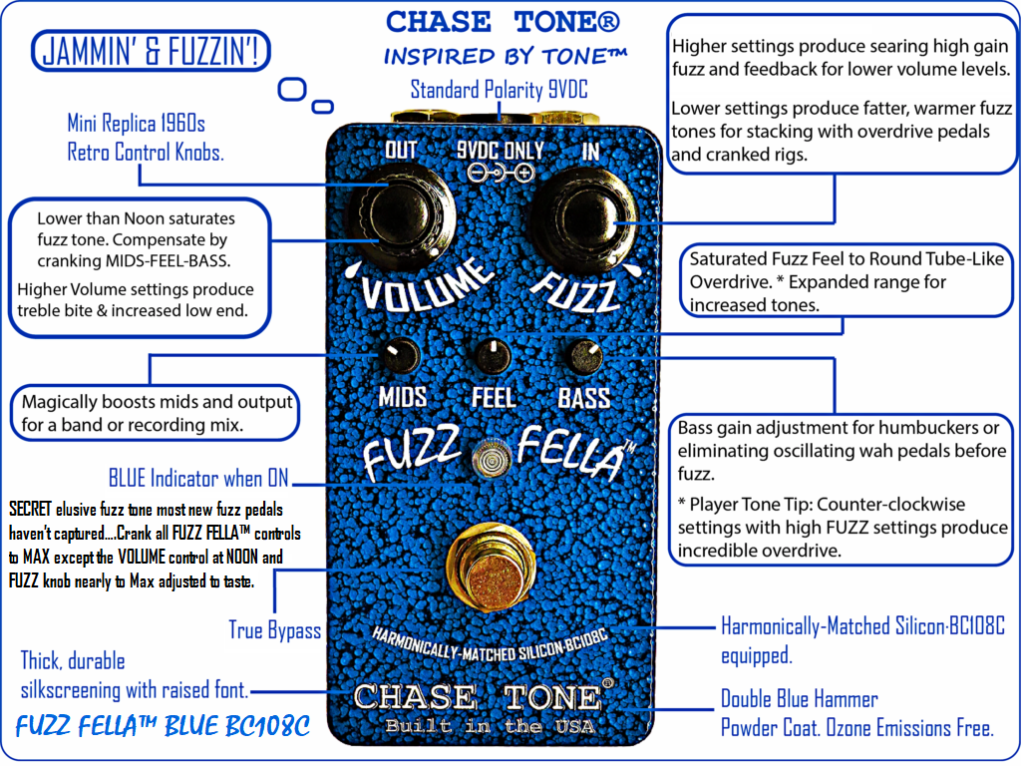 ~ Capture Iconic, Elusive Tones or Fine-Tune Your Own ~
Well well well. This little thing rocks…this is one of the nicer fuzz pedals I've played this year. I can get that big wall [of] warm [fuzz] in the neck and the clarity in the bridge. Just tap the volume on the guitar and I can get SRV clean but FAT. Great work. As soon as I got it adjusted and it stayed warm in the neck pickup, I had to email you. I dig it.

–

Nik S.

Controls:
VOLUME: Turning Clockwise increases sustain, BIG low-end punch and treble bite nearer to Max. An optimal setting is usually between Noon and Maximum.
Lower than noon saturates fuzz tone. Compensate by cranking MID-FEEL-BASS.

Higher Volume settings produce treble bite & increased low end.
FUZZ: Maximizing this control increases total amount of fuzz.
Higher settings produce searing high gain fuzz and feedback for lower volume levels.

Lower settings produce fatter, warmer fuzz tones for stacking with overdrive pedals and cranked rigs.
Hi Kyle, this evening I fired up the 1966 Marshall JTM 45/100 Super Amplifier in combination with my 1968 Marshall 4X12 B cabinet loaded with G12M pre Rola 25watt Celestions & my original 1957 Stratocaster. The final step was to add the CHASE TONE FUZZ FELLA BLUE BC108C pedal…!


The first impression I got was that the CHASE TONE FUZZ FELLA BLUE BC108C pedal FEELS like home! Meaning that it sounds as good as my original 1969 red Dallas Arbiter FUZZ face with BC108C transistors. I was pleased to hear this! Your pedal has an astonishingly accurate vintage sound quality. I was able to achieve all the classic FUZZ tones on the records I grew up with & also go beyond that! I really could not discern much difference, if any with my original '68 Dallas Arbiter FUZZ face.

Here is where things go beyond being better than my original FUZZ. Not only does the CHASE TONE FUZZ FELLA BLUE BC108C pedal replicate the original sound of my '69 Dallas Arbiter FUZZ face, but it also has the ability to refine that great classic sound with the enhanced gain & EQ options via the 3 mini potentiometers. Now I have a FUZZ that truly sounds FANTASTIC no matter what guitar I use with the CHASE TONE FUZZ FELLA BLUE BC108C pedal. With the enhanced gain & EQ options of the CHASE TONE FUZZ FELLA BLUE BC108C pedal, now my Gibson Les Paul sounds great without being too muddy sounding. I now can fatten up lead tones, especially when using the bridge pickup on my 1957 Stratocaster which is very bright. My original Dallas Arbiter FUZZ face does sound great. However, at times my original FUZZ limits what guitars I can use with it because I have no good option of dialing out bottom end or adding mid-range when some of my guitars are sounding to thick or muddy.

In conclusion the CHASETONE FUZZ FELLA BLUE BC108C pedal gives me the vintage accurate tone of my original '69 Dallas Arbiter FUZZ face but also goes beyond it with the enhanced gain & EQ options which I am really enjoying! AMAZING work as always! Do you have any [other] FUZZ pedals left? I am also curious about them!

Kind regards, Phillip
MIDS: Magically boost MIDS and OUTPUT for a band or recording mix when turned clockwise. [You can't get a vintage fuzz to do this.]
FEEL: Updated Bias knob. Every setting is musical and changes the feel and texture: counter-clockwise saturated starved voltage and dying battery feel through clockwise punchy round tube-like fuzz and everything in between. New! 2.5X Expanded Range. [You can't get a vintage fuzz to do this.]
BASS: Bass gain adjustment for humbuckers or eliminating oscillating wah pedals before fuzz.
Player Tone Tip: Counter-clockwise settings with high FUZZ settings produce Incredible Overdrive. [You can't get a vintage fuzz to do this.]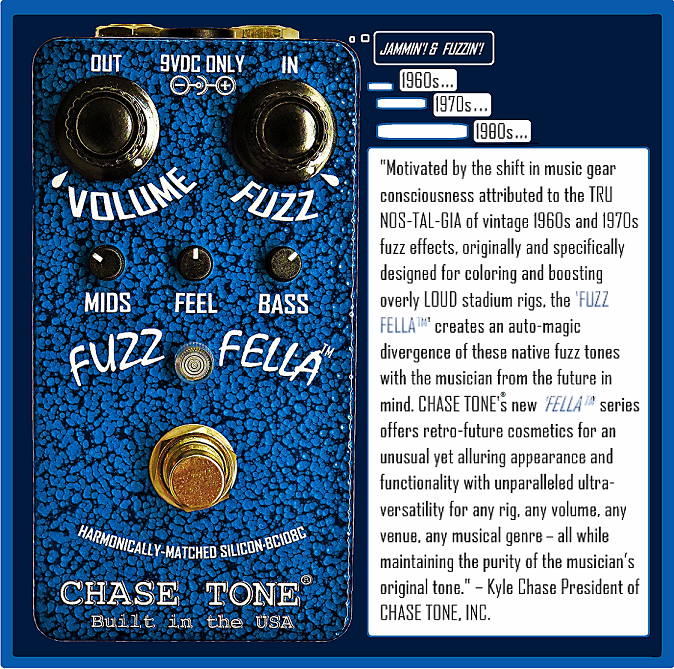 Kyle, Well you were correct, if a bit too modest about the Fuzz Fella™ BLUE BC108C;It's the best Silicon Fuzz pedal I've ever plugged into. Let me tell you a short tale to help validate this claim:

Back in the late 90s, I walked into a very well-known & well respected vintage guitar & effects dealer located in the garment district of NYC (it's still there…), looking to try out and perhaps go home with the best "vintage" (or new) fuzz pedal I could find. This dealer literally had a glass showcase chock full of many of the coolest and most coveted pedals anywhere on the planet, including many of the most recent 'boutique' pedals (which was really becoming a thing by then)!

Being a regular, the staff graciously tolerated me trying out many (all?) of the fuzz pedals in their collection, over the better part of an hour (all through a "66 Strat in Shoreline Gold!), I remember the day quite clearly!

The fuzz I kept coming back to was an original Colorsound fuzz (one of 3 I tried), from the early 70s. It was just incredible: Thick, juicy sustain, glassy cleans, crunchy, percussive (the way a great silicon fuzz can be) without ever getting "fizzy' or losing focus on the bottom end-you know what I mean, of course…

I really wanted this thing but alas, couldn't afford the price tag, which was nearly $500 bucks (nearly 20 years ago)!

I've been searching for that sound and 'feel' out a fuzz ever since-until I got the Fuzz Fella: It's all I've ever wanted and more – 'nuff said. It's all a truly great Silicon fuzz can ever hope to be, and so much more. I may just have to get another…

All The Best My Friend,

Rich

PS: Yes, I checked out the clips and they're great-very compelling stuff! And no: when it comes to your (Chase Tone) pedals, they're not being hyped-it's no brag, just fact. I said it before and I'll say it again: you are the only designer/ manufacturer of effects pedals that I feel confident about purchasing from sight unseen/unheard!!!

Best,

Rich
Features, Components & Hardware Include: PREMIUM QUALITY WITHOUT THE PRICE
Professional Low-Noise PCB DESIGN: FULL PCB GROUND PLANE enhances low noise design.

Stable Performance On-the-Road- Temperature independent for consistent performance.

Standard 9VDC Polarity Power- Center Negative (Standard) or 9Volt Battery.

Components Include: Vintage-Spec, New Production

Cherry picked Special Ordered BC108C Silicon Transistors- Only handpicked transistors are used.
Läs mer